[box type="info"] This blog post is part of a blog series about the Agile Coach role at Spotify. If you haven't done so already you may want to read the introductory post The Agile Coach role at Spotify first.[/box]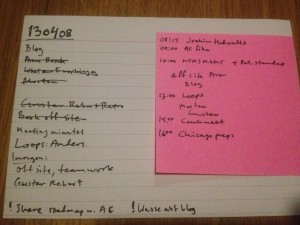 Planning the day
I usually try to start my day making some kind of selection on what I should do during the day, and in which order I should do it. At the moment I use index cards where I put today's date and write down a short todo list. I start with going through the calendar to determine if there is anything I need to prepare and to assess how much time I will have for things not in the calendar. I try to not have too many things I must do so I have slack for unforeseen things, catching up with people and teams, and so on. I write down the calendar events on a post-it and stick it to the index card and carry the card with me through the day, adding notes and actions to it as things happen.
Meeting Mr Paid Acquisition
This Monday I had a meeting first thing in the morning, a pretty rare event since most spotifiers like to sleep in. I was meeting the guy in charge of Paid Acquisitions and he happens to live just around the corner from the office and, as father of a small child, happens to be really early arriving to work.
I recently started working with Spotify's Growth organization. Growth focuses on driving monthly active users (MAU), daily active users (DAU) and engagement, increasing conversion rates and ensuring that we excel at retention as well. The first thing I did when starting to work with Growth was to sit down and have a chat with everyone working there. I want to learn what they are doing, why they are working here, what they like about it, if there is anything they would like to be different or that they are struggling with, and so on. Besides getting to know everyone better this will help me to assess how I should spend my time, what I should focus on in my work.
In today's chat I learned a lot about how we work with paid acquisitions, but that's a topic for another blog post and probably by another author.
Agile coach fika
Every Monday morning we have an informal fika meeting open to all agile coaches in the Stockholm office, and to anyone else that happens to stop by for that matter. We meet in the corner of our beautiful 11th floor cafeteria with a nice view of central Stockholm and have some breakfast. This morning there were about four or five of us and we talked about last week's Product Days, a big offsite for everyone in our Product Development organization (and then some) where both strategic and tactical discussions are being held.
The informal meeting type we call "fika" is a more and more common meeting form here at Spotify. A fika, in our definition, means that most normal meeting guidelines are reversed: you don't have to be on time or even show up, there is no agenda, no minutes, and so on. It's basically just a scheduled time in a specific place with a certain group of people invited. If you're lucky there will be sweets to the coffee. The purpose of a fika is often to offer a break where you can meet other people that shares a particular context with you, such as other agile coaches or the other members of your tribe (our name for department, kind of) to catch up and  keep some sense of togetherness or team.
Somewhere between fika and meetings the "Lean Coffee" format is also growing in popularity at Spotify, in my tribe we use it in our tribe management meetings, among other meetings.
More Than Music Stockholm tribe management meeting
I work in the More Than Music Stockholm tribe. Most of the Growth squads/teams (see above) are in this tribe and we also host the squads that are working with customer services, artist profiles and the new discover view launched recently. The tribe management team consists of the tribe lead (VP of Engineering), all the chapter leads and agile coaches in the tribe. Our purpose is to optimise our tribe to deliver value for Spotify and our mission is summarized as "challenge, support and focus". We have a weekly meeting that starts with briefly going through the board before we use a Lean Coffe style approach for the rest of the meeting. Everyone can suggest topics that are written on the board, we vote (typically using three dots each) and go through the list starting with the one that got the most votes. We time box each topic to ten minutes after which we decide through "thumb voting" if we want to keep going (thumb up), go on to the next topic (thumb down) or let the others decide (thumb sideways). If we decide to keep going we use five minutes intervals between coming votes within the same topic. This format lets everyone influence the agenda and feel an ownership of the meeting and I have found that it often keeps the discussions focused and at times allows us to keep the meetings shorter than planned for.
Example of topics discussed today was takeaways from the Product Days (see above), new budget, and an experiment one squad is running with transferring responsibility for monitoring alerts from SRE (Service Reliability Engineering) to the squad itself. We also reviewed our OKRs for the first quarter and talked briefly about our OKRs for this quarter. OKR stands for Objectives and Key Results and is a tool we use to to keep us focused on the right priorities, and help aligning everyone in the organization, when needed. An OKR is an objective, for example we used "Grow high performing teams" for om of our Q1 objectives, which is more of a vision or direction, and three to five key results to help move closer to or achieve the objective, e.g., "each team should have a Definition of Awesome". OKRs can be a mix of product, technical and process goals.
E-mails, planning and blogging
Having some time between meetings I decided to check up on e-mails while listening in to one of the squads I work with discussing some scaling challenges. I am planning an offsite with this squad, the Retention squad, with team building, Q1 review and Q2 planning for this Friday, so I made sure everyone is still available Friday and went on to book venue, food, etc. There was also time for some blogging, soon to result in the introductory post in this series.
We have an awesome cafeteria on the 11th floor which makes it really easy to have lunch with colleagues you don't always meet otherwise, but unfortunately also makes it easy to just get some sandwiches and snacks and sneak back down to your desk to work, which is exactly what I did this day.
Loops
Two times a year all employees participates in a 360-degree feedback program known internally as Loops. We write a self-evaluation, request feedback from a number of peers and book a meeting with our manager. Today it was time for me to sit down with my manager, tribe lead Geoff Wilson, to review my accomplishments the last six months and to start think about the future. As most of us have weekly one on ones with our managers and many of us get continuous feedback from our peers, this meeting rarely contains any big surprises, but is rather a chance to look at the bigger picture and the long-term perspective.
Chatting with a Paid Acquisition engineer
My exploration of Paid Acquisition continued in the afternoon when I got the chance to sit down with one of the engineers working in this area. Engineers usually don't have that many meetings and many of them prefer to have longer time slots of uninterrupted work where they can focus on the task at hand. I try to avoid booking meetings that split up their days more than necessary and prefer to catch them by the coffee station and invite them for an informal chat on the spot. To be able to do this you to have plenty of slack in your calendar.
Interviewing our CPO
We did a big retrospective a while ago and I have been wanting to catch up on some things with our Chief Product Officer ever since, but our calendars haven't aligned, mainly because he's a busy guy but also because of my paternity leave and being busy organizing a hack week before that. Today we finally got the chance to sit down and I could interview him about a couple of the mysteries identified in the retrospective. Unfortunately I can't blog about this, but now I have some information to communicate to other stakeholders and, more important, a few things to improve for our next big event or release. As so many other things around big projects it concerns communicating important things early and clearly to all interested parties, there's always room for improvement there.
Coachmeet
If interviewing the CPO had not conflicted with this weekly meeting and made me miss the start I would probably have attended our coachmeet. My colleague Daisy Pilbrow initiated this weekly "helpdesk" session with this format (copied from the meeting invite):
1. 5 min (timeboxed) – Identify topics (could be a sharing or a question or something we should sync about)
2. We pick one randomly and discuss it (no dot voting)
3. The person who wrote the note chooses when we're done (could be the whole hour or just five minutes)
4. If time allows, we pick another topic randomly and discuss it.
A nice opt-in meeting where you can get help, bounce ideas or raise awareness about what's happening in your part of the company world.
Preparing our Chicago talk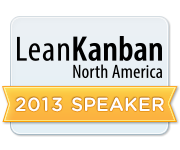 My colleague Anders Ivarsson and I have been invited to speak at the Lean Kanban North America conference in Chicago, April 28th to May 3rd. We will talk about how Spotify is actively working on staying lean and agile while growing fast. We have done similar presentations in the past but we want to develop it further and tailor it for this particular conference. Since Anders just swapped places with one of our NYC coaches for about three months we have to meet over Skype in the afternoon. Running distributed meetings via video conferencing like this is a pretty common challenge at Spotify. A lot of meetings need to happen after 15:00 (3 pm) so that NYC is awake and can participate, but before 17:00 (5 pm) or sometimes sooner because of people in Sweden who need to pick up kids or get home to their families in time for dinner. Getting the tech to work is unfortunately, 2013, not yet trouble-free.
Luckily for us, one-on-one video conferencing over Skype is pretty smooth, so we manage to come up with a few ideas on how to improve the presentation. After the meeting I summarized our thoughts in an e-mail to the conference track chair before leaving the office to go home to my family.
What am I doing alerts
One more thing. During the day my iPhone has been beeping now and then, reminding me to fill out a Google spreadsheet answering the following questions.
Where are you?
Who are you with?
Emotional mood?
What are you doing?
Are you having fun?
Are you providing value?
Are you proactive or reactive?
This is an initiative by my colleague Jimmy Janlén and several coaches are doing the same thing. It's an adaptation of the "are you in flow" exercise suggested by Daniel Pink in his book Drive and the idea is to get data and reflect on what we are actually doing and if it is the same as we should, or want to, be doing.