[box type="info"] This blog post is part of a blog series about the Agile Coach role at Spotify. If you haven't done so already you may want to read the introductory post The Agile Coach role at Spotify and the earlier posts first.[/box]
Yoga class
It has been years since I last did yoga, but the Spotify Mind Awareness Program and the fact that Spotify offers a free yoga class every Thursday morning just across the road, made me want to pick it up again. It was really tricky and exhausting at times, but really fun too. I have only tried simple positions in beginner classes at the local gym before and had no idea that I would be able to go from sitting position to standing on my head without support (well, the hands of course). And standing like that on top of another guys knees and thighs while he was in a bridge position none the less! I will definitely do this again.
MTMS Management standup
Every Thursday (and Monday in the longer management meeting) the management team gathers around a Jira board to coordinate our work, follow up on its progress and share information. Today we talked briefly about the progress of determining different OKRs for Q2: for chapters, squads and the tribe. I also got to move the last squad's "Definition of Awesome" work to done.
Catching up on e-mails
I decided to use the time before lunch to catch up on e-mails. I read and answered threads discussing our tribe OKRs (see the Monday post), the agile coach recruitment process and a request for agile coaches for the Spotify Bootcamp. The bootcamp is a chance for new hires to start their first week at Spotify working together as a squad, with a product owner and an agile coach, and experience a mini-sprint of work. They are provided with something useful, interesting and fun to work on that often forces them to learn a lot of our systems and to talk to people in different departments.
I also handled some more practical stuff preparing for our intern next week, sorted out the agenda for Friday's workshops with the product owner and exchanged some ideas for my upcoming trip to San Francisco. In the beginning of May, my New York agile coach colleague George McMonigle and I are going to the San Francisco office to help them with some agile coaching.
Agile Coach lunch
Thursday is agile coach lunch day in Stockholm. It's a good chance to catch up with other agile coaches although you never know exactly who shows up. This week's turn-out was good, probably because our dear colleague Karin is back from a long period of parental leave.
Preparing team work workshop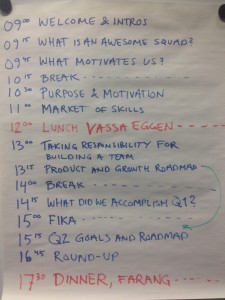 After lunch I worked on preparing the team work part of Friday's workshop. The first half of the day will have a focus on what it means to be an awesome team and how to get there. I finally caught up with Jimmy to go through his team work course slides together with him. As I've already mentioned there were a lot of golden nuggets in there and I decided to steal quite a few after having bounced ideas back and forth. The result will be presented in tomorrow's blog as I will have to put in some more work tonight…
Prepare Lean Kanban North America talk
Time for a quick "brainstorming" about how to change our talk at Lean Kanban North America. We came up with a few good ideas on what to add, but it was a bit harder to know what to drop. In earlier talks about Spotify's organization we have used autonomy, mastery and purpose as structure of the presentation. This time we will have 40 minutes instead of 55-60 and we have a slightly different focus. We decided to come up with a new structure first and that will hopefully help us understand what we can remove. We will think individually about this and meet again next week.
Growth team weekly
All product development people, and a few others (like me), in the Growth organization gather weekly to share information and coordinate. I've only been to two of those so far, in the first we reviewed the Q1 OKRs and in this one the next quarter's OKRs were presented and discussed. Is this or that key result (KR) challenging enough? Can we really measure that KR? Can we change this KR to a quantitive one? Is that KR aligned with the objective? (Does it matter?) And so on. One thing I really like about this meeting is the "wins & highlights" where we go around the table and have everyone report at least one "win" the last week, for example something you or your team shipped or a new hire that was signed.