[box type="info"] This blog post is part of a blog series about the Agile Coach role at Spotify. If you haven't done so already you may want to read the introductory post The Agile Coach role at Spotify and the earlier posts first.[/box]
Lean Coffee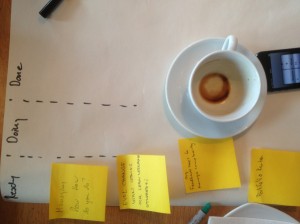 Three years ago I visited my first Lean SSC conference (what is now Lean Kanban North America), in Atlanta 2010. Fellow travelers Peter Evjan and Johan Söderström and I were met with a very warm welcome because we were the only Europeans who had managed to avoid the volcano ash clouds that stopped everyone else's flights. In Atlanta we got to know Jim Benson, one of the originators of Personal Kanban and Lean Coffee, and he inspired us to start our very own Lean Coffee in Stockholm (or Sundbyberg, Sumpan, where all of us happened to be working at the time). Lean Coffee Sumpan/Stockholm has now been going strong every Wednesday for three years, only pausing for summer and Christmas. If you haven't tried it yet and live in (or pass by) Stockholm you should really come by. Wednesdays 08:00-09:30, come when you can, leave when you have to. Le Café, Klarabergsviadukten 61.
Today we were so many participants that we divided into two groups. The one I joined discussed if evolutionary change without management and lean operational strategy is possible and how to leverage organizational feedback loops to manage complexity. The other group discussed how to manage flow and portfolio kanban.
For a brief example of how we use Lean Coffee for meetings at Spotify, see my Monday post.
Retention standup
We have only been running standup meetings for a few weeks so today I asked the team members to reflect for a while after the meeting. Is the meeting useful to you? Affirmative, but someone thought it was a bit too long. What, if anything, could we remove from today's meeting without reducing the value of it? A suggestion was to take some of the problem solving discussions after the meeting, only involving the ones it concerned.
We ended by briefly considering if we were achieving the five goals we had established for the meeting:
Does it give your day a good start?
Are we identifying improvements?
Does it supply us with a focus on the right things?
Is it increasing our sense of team?
Do we now how the work is progressing after the meeting?
Some modifications to the board were suggested when answering the last questions.
Impromptu meeting with Paid Acquisition
I was lucky enough to find three quarters of the Paid Acquisition team available for a short impromptu meeting. I wanted to know if they considered themselves a team or not, or possibly two teams. They swiftly concluded that they wanted to work as a team, but they needed a better way to handle the fact they had multiple stakeholders. A short discussion later we decided to do a lunch & learn about Kanban.
When I stopped by later in the afternoon they had already change their board and decided do have a standup every other day.
Planning a workshop with the PO
As I mentioned in the Monday post we're planning an off-site workshop with the Retention squad to work on our team skills, review last quarter and plan the next one. I got together with the Product Owner, who is preparing the review and planning parts, to create a plan for the day, and decide how to run the different parts of the workshop. I will write more about the workshop in the Friday post.
"A canceled gig is also a gig"
This legendary quote is the words of a world famous (in Sweden that is) Swedish artist who then added that "the canceled concerts is the only thing people are talking about, so they have to mean something". So I guess it means something that Mumford & Sons had a gig at the office today that was canceled last minute. Bummer, I would have loved to see them, but instead got to see, and catch up with, some folks from other floors and departments that I had not seen in a while.
Agile Coach intern
Together with colleague Matthew Green I have decided to take on an intern from an "agile project manager" education here in Stockholm. She starts next week and there were some practical things, like getting user accounts and a computer, that needed taking care of.
SMAP individual coaching
Every other week I get individual coaching from our mind awareness teacher Ratheesh Mani (see the Tuesday post). Since I seemed "open to experimenting" he gave me quite a challenge: a three weeks "detox" program with two 36 hours fasting periods a week and no bread, gluten, potato, alcohol, lactose, and a bunch of other things, during the rest of the time. I'm going to start Monday next week…
Team work course
Colleague Jimmy Janlén has developed a team work course that he has taught a lot and is now going to try with a couple of Spotify squads. With my upcoming team workshop I was curious to exchange ideas with Jimmy. Unfortunately he had to postpone our meeting to tomorrow so I spent some time going through his slides to see if there was anything in there I could use. There sure was! I used the inspiration to start preparing my own workshop on Friday.